We provide all our locksmith services for most Fiat vehicles we deal with lost car keys and replacement keys throughout London, parts of Essex, Kent and Surrey.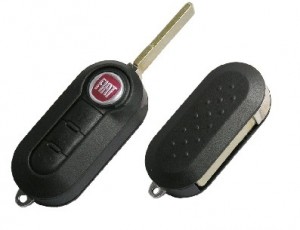 If you only had one key for the car and happen to have lost the key then you've come to the right place we will be able to help you. Depending on the model of your vehicle depends on the method and procedure needed to carry out the work required. Most Fiat vehicles we will have to remove either the ECU or the BSI to program keys directly into the unit. All our locksmiths are well trained and fully qualified to carry out all the required work on site.
We aim to offer replacement car keys on the same day, we stock a wide range of remote and standard non-remote transponder keys which will start your vehicle.
We can also help gain entry into the vehicle, if you've locked the keys inside the car or the boot we will be able enter the vehicle without causing any damage.
Different Fiat's we cover our services for:
Grande Punto, Scudo, Stilo, Bravo, Punto, Fiat 500, Bravo, Doblo and Ducato 
Common problems
Losing the transponder from the original key, will cause the car not to start

Remote fob stopped working

Broken keys

Keys locked in the back of the van
Keys locked inside the vehicle
These are all issues we deal with on a regular basis, they are issues which we are to deal with.